4-way 'intelligent' electronically-fused output splitter
8-way glass fused output splitter
4-way glass fused BNC socket output splitter
Proximity request-to-exit door releases
Resettable, double-pole & triple-pole break-glass emergency door releases
Dual power supply units redundancy module
DIN-rail cradles
Anti-Tamper Switch Kits for Dycon housings
Heavy-duty magnetic PCB fixing kits for metal housngs
Dycon has a range of useful accessories, all designed to enhance the performance of systems
Dycon's accessory range provides simple solutions to some of the common, everyday problems that installers and specifiers face. Designed with simplicity in mind, they all feature a clever use of technology to provide reliable, self-explanatory operation without the need for complicated additional training.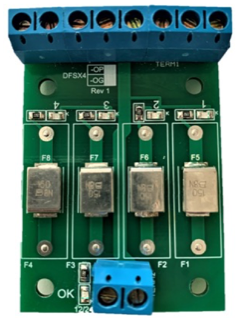 Output Splitters
Dycon's output splitters enable a single 12VDC or 24VDC output to be split into 4 or 8 separate channels to drive a wide variety of different devices. Two of the range are protected by 4 or 8 standard glass fuses which can be selected to suit the total current output, the third splitter has 4 electronic, self-resetting fuses which require no manual intervention as they reset once the problem has been eliminated. The D15X4-BNC utilises 4 BNC sockets to allow video signal loop-through as well as having separate DC voltage terminals to drive up to 4 CCTV cameras.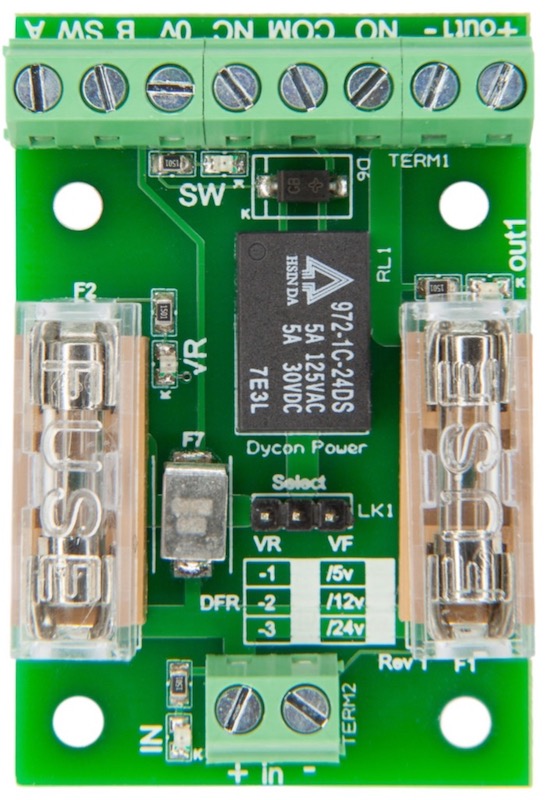 Universal dual output /fire relay
The Dycon DFR-X relay board switches the output power if the input is closed or opened. The input can be triggered from a switch, like a fire relay, using the internal power or by applying 12 or 24 Volt depending on version. The unit has 2 outputs, one switched and one pass through. Both outputs are individually fused. Using the on-board jumper, the relay can be set to volt free operation. The 4 LED's provide easy feedback of the inputs and outputs. The DFR-X is available in 12 and 24 Volt DC versions
Emergency Door Releases
One important area that often gets overlooked is the provision of reliable means of releasing locked on the inside of a building protected by an access control system, Dycon has two proven, dependable solutions that will put building operators' minds at rest. Both operate the same way and both are re-settable after activation. When the window is pressed, it slides down activating the call point switch and resulting in the door lock being released. Included in each pack is a special test key that allows the window to be returned to its original position thus resetting the call point. The triple-pole version interrupts both lines of supply for fail-safe locks and also allows for monitoring via access control and alarm systems as recommended by most fire departments.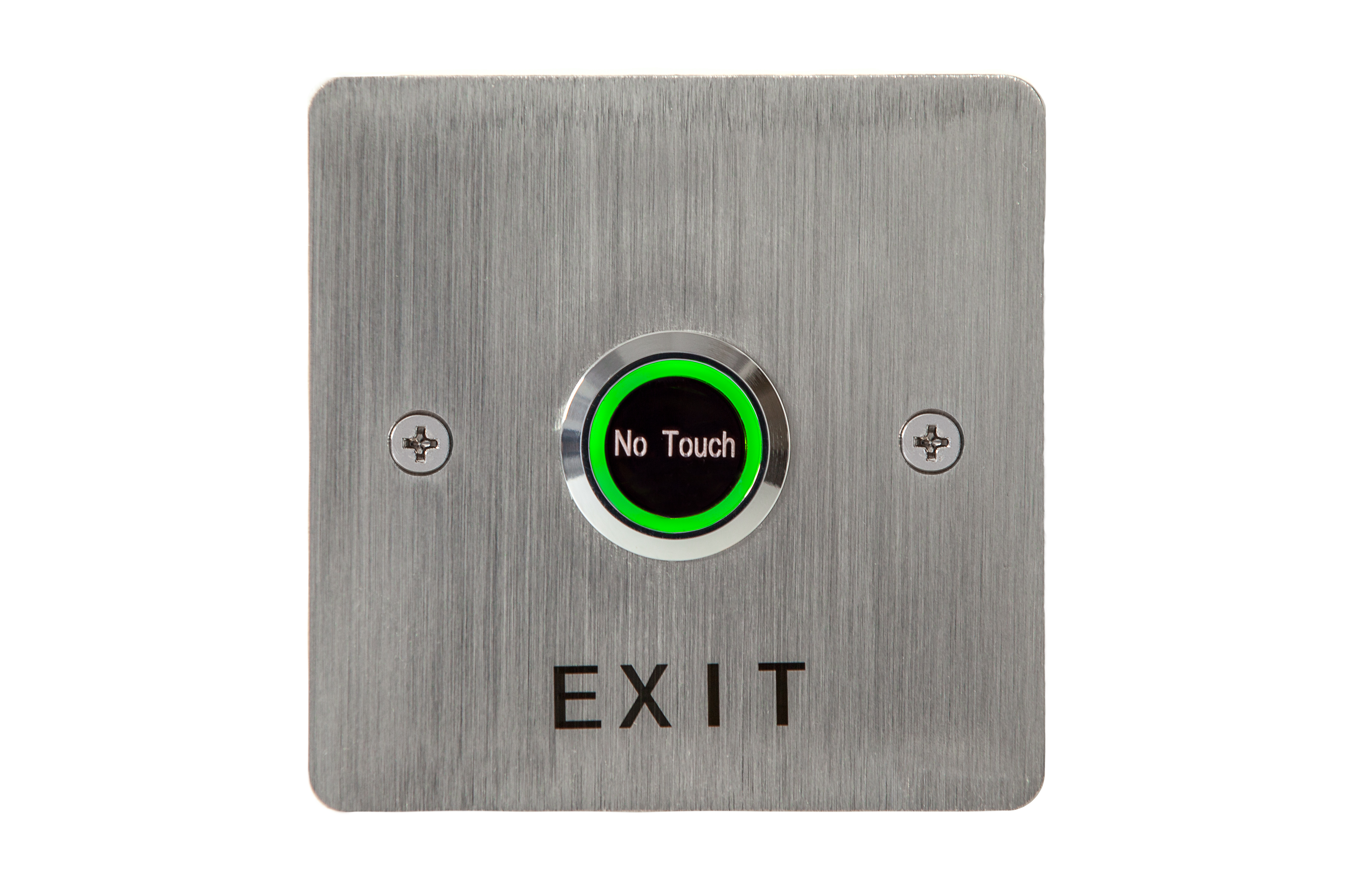 Hands-free request-to-exit buttons - The Covid-19 Pandemic has highlighted the need for access-controlled doors to be opened without having to physically touch the release buttons of door handles. The Dycon DA999-011 PREX Proximity 'No Touch Request-to-Exit' button provides the ideal solution. Easily installed into a standard UK single-gang wall box, this unit can be fitted close to the controlled door and the blue LED indicator draws attention to its position, removing the need to stick labels on the wall nearby. Any person requiring to leave through that door needs only to place a finger or hand within 5-10 cm of the button for it to operate, the LED will then turn green and the door will release. The unit has a wipe-clean, stainless steel backplate easily cleaned with antiseptic wipes further improving its germ/virus resistance. Dycon DA999-011 PREX is ideal for clean environments, such as hospitals, clinics or doctor's surgeries and it can help restrict the spread of germs in commercial and academic premises.
Dual Power Supply Redundancy Unit
The D2500 Dual Power Supply Redundancy unit is a unique, practical solution to the problem of maintaining the 12-24Vdc supply to secure infrastructure systems where the unforeseen failure of a single power supply unit would seriously damage the operation of that system. This unit, simply fitted between 2 standard 12Vdc or 24Vdc Dycon switched-mode power supply units, combines the two inputs into a single output and, in the case of failure of one unit, the other, automatically, and seamlessly, takes over. The D2500 works with any Dycon switched-mode power supply unit, 12Vdc or 24Vdc, with a maximum output current of 5A per unit. It also features 2 LEDs that provide visual feedback on the state of each input.
DIN-Rail Solutions
Increasingly, throughout the world, large buildings and construction sites concentrate low-voltage power distribution and services into DIN-Rail cabinets rather than having many separate boxes screwed to walls. To meet this demand, Dycon has 3 sizes of DIN-Rail mount cradles suitable for fitting a wide range of Dycon's advanced technology, switched-mode power supply units into. Installation is simple, no need to drill holes or screw anything in place, simply clip the Dycon power module into the DIN-rail mount, clip the whole unit onto the DIN-Rail and connect the cable onto the clearly marked terminals. In addition to these cradles, Dycon also has the DR-60-series, comprising a 12VDC 2.5A and a 24VDC 4.4A power supply both contained within an integrated DIN-rail mounting for even more rapid installation and swap-over.
Anti-Tamper Switch Kits for Housings - Dycon's Housing Anti-Tamper Switch Kits are designed to provide front and back monitoring of PSU housings. These Anti-Tamper Switch Kits can be ordered for retrofit or pre-fitted with the supply of the housing. They are suitable for retrofitting to existing Dycon housings and provide EN50131 Grade 2 and Grade 3 compliance. The kit comprises a microswitch with a unique extension bar, which will detect the removal of the housing from the wall, cable and a fixing screw. The volt-free contact is normally closed when the lid is shut and the fixing screw is in position. Removing the lid screw or prising the housing from the wall will cause the tamper switch to change from normally closed to normally open. The microswitch is intended for low voltage signalling contact use only, not heavy current loads.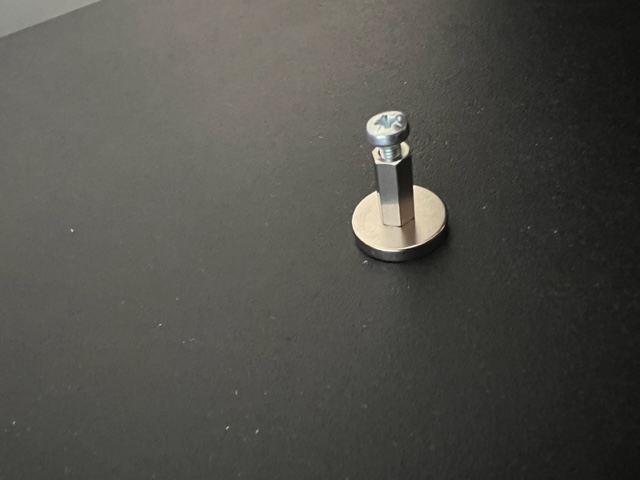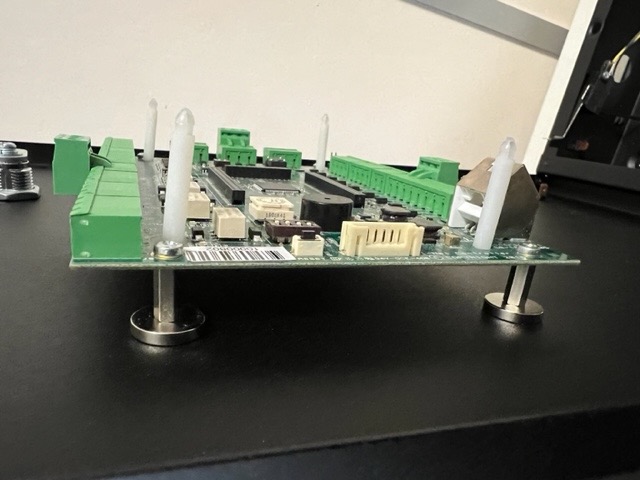 Heavy-duty magnetic PCB fixing kit - for securing PCB's to metal housings without the need to drill or tap holes in them