November 2021
D2401-AA, ideal 24VDC, 1A power supply for driving magnetic fire door release systems and other 24DC applications where no standby batteries are needed.
E-box, large multi-purpose steel box for housing any of the 34 Dycon(0.5A to 10A) power supply modules, peripherals & 3rd Party controller products
The latest products & innovations from Dycon Power Solutions
Dycon Power Solutions November 2021 launch features two innovative products, the D2401-AA and the exceptionally versatile E-box.
The D2401-AA is specially designed for powering 24VDC magnetic fire door releases but can be used for anything requiring 24VDC 1A without battery back-up. Capable of powering up to 8 x double fire doors or 16 x single fire doors, based on 50mA each, the D2401-AA also has an opto-relay output to remotely signal if the mains or the 24 VDC output fails and an easily visible LED indicator to provide quick visual status indication. The unit is housed in a new, compact, 1.5mm steel box, attractively styled to blend into the decor of hotels, offices, hospitals and other large buildings, with rounded corners to make cleaning even easier.
D2401-AA, showing the neat, compact design and the easily visible, green, status indicator LED and, an open shot showing the PCB and a number of the cable knock-outs making installation easy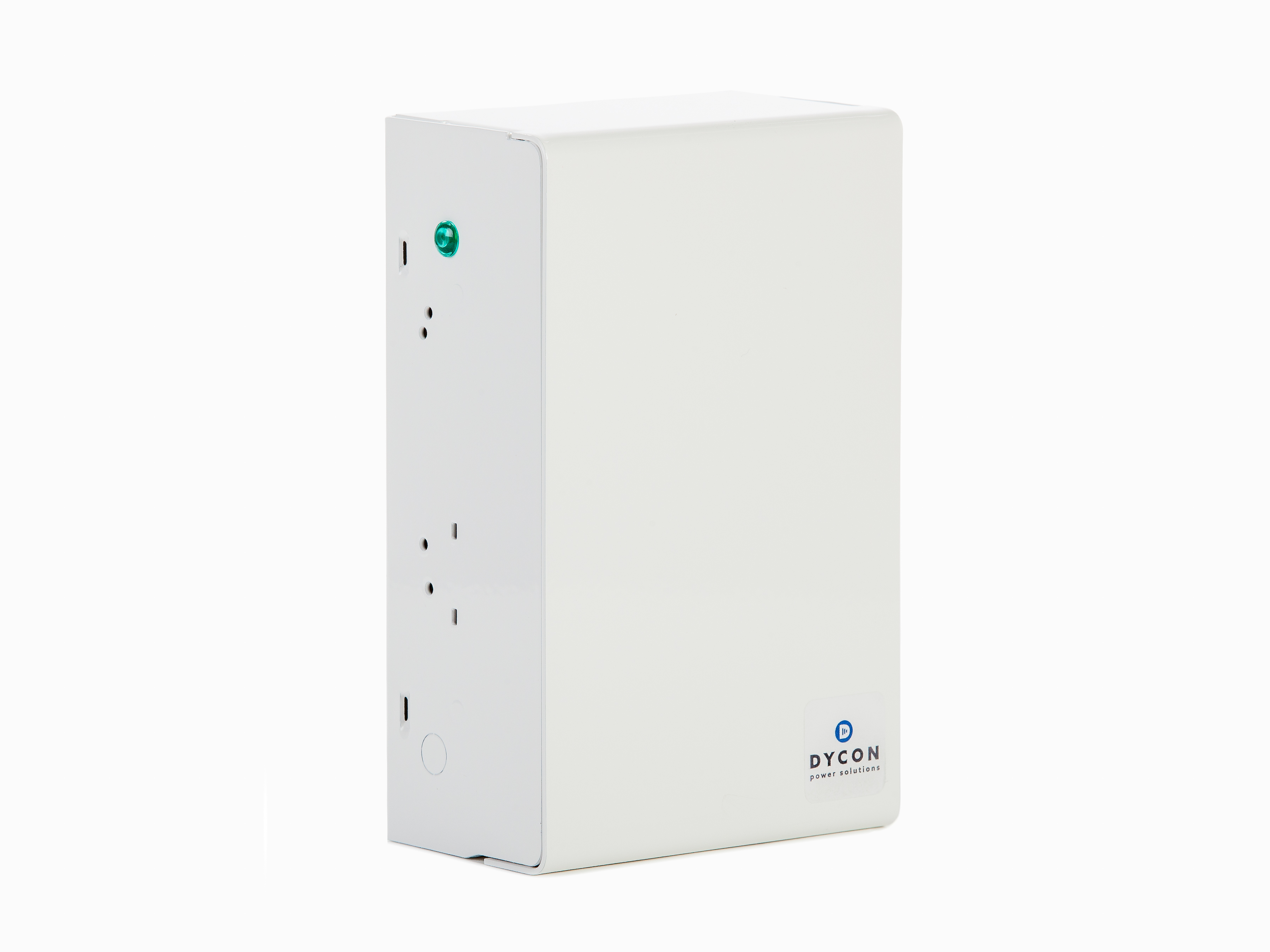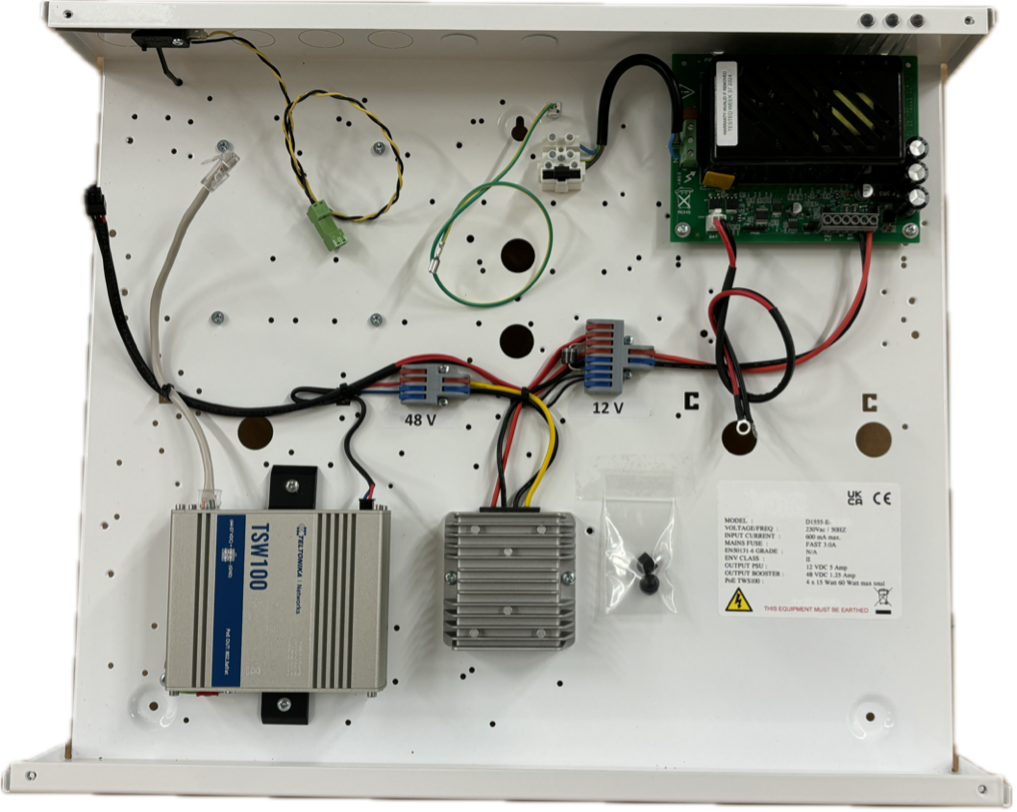 The new Dycon E-box is designed to provide ample space for an installer fit any one of Dycon's 34 x 12VDC or 24VDC power modules, as well as system peripherals such as output splitters, DIN-rails and relays, and these can be supplied ready-fitted. The E-box is pre-drilled to accept a number of 3rd party control modules from leading manufacturers such as Access Security Products, Control Soft, Honeywell, Lenel, Mercury, Paxton, Vanderbilt, ACT, Gallagher, and HID. Even once these are all fitted, the E-box can still have space for 2 x 17Ah batteries.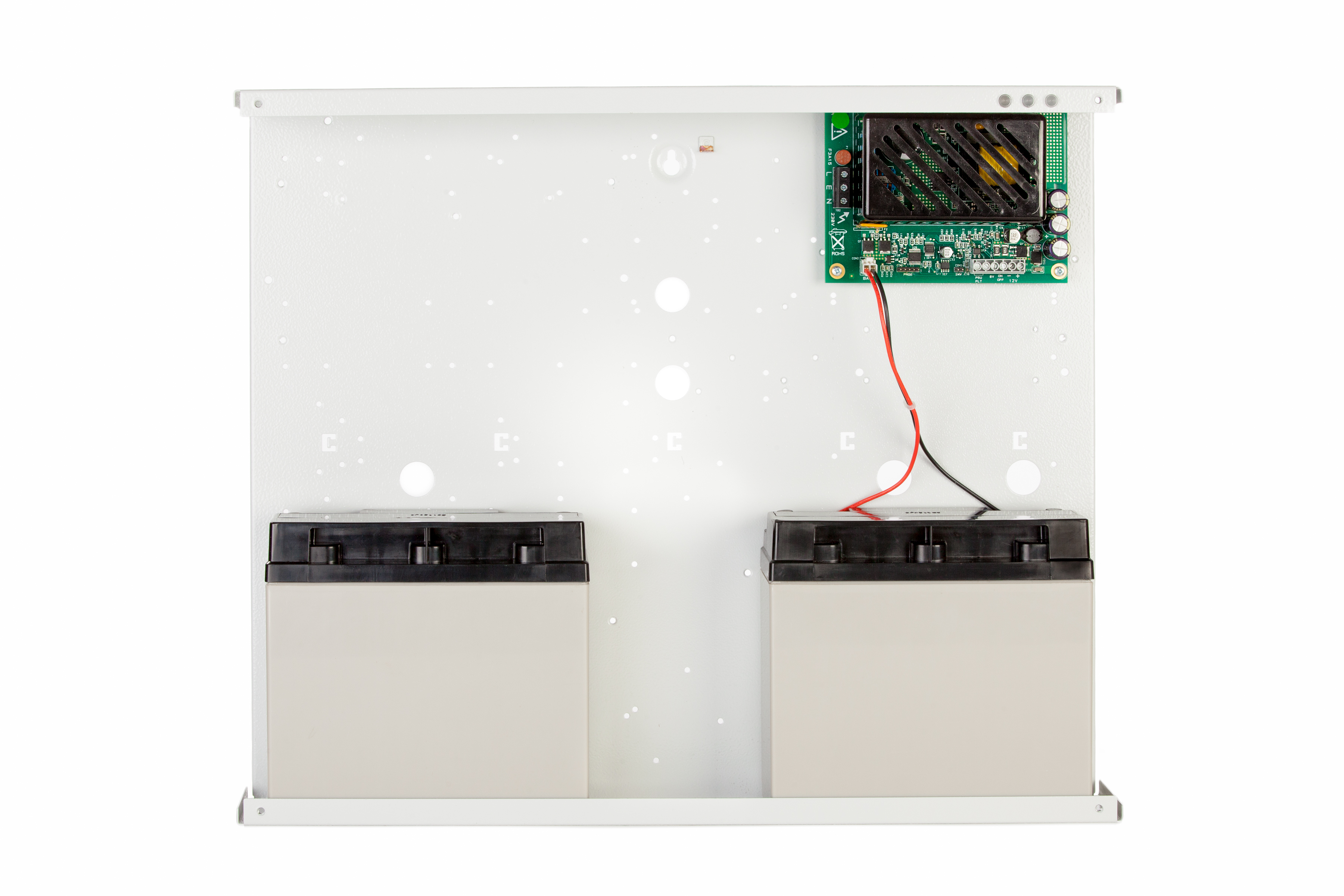 A typical E-box arrangement showing the layout when fitted with a Dycon D1532-P 3A EN50131 G3 PSU module, 2 Mercury controllers, an 8-way output splitter, a fire relay and a 17Ah battery